Tifox – A reminder app
May 21, 2016
Recently we needed a simple and resource friendly Android app which regularly reminds us of working breaks like moving around to counteract long sitting sessions.
Spoiler: We just developed this app ourself and released it for free and without ads.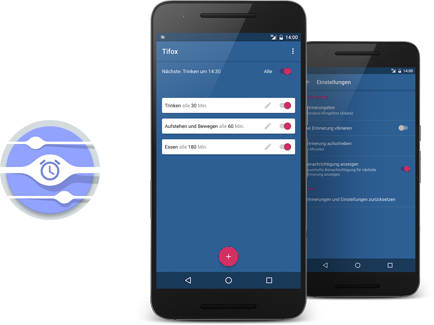 Characteristics
Our app was supposed to complement the stock Android 5+ clock app in appearance and function, so we designed the app logo and interface in the new Material Design and included the dynamically changing background color of the stock clock app.
An essential objective of development was to make the app as simple, fast and resource friendly as possible. We achieved that by heavily relying on functions already integrated in the Android operating system, like the notification system and alarm manager. This also leads to minimal app permissions.
The app allows you to create reminders by entering the interval in minutes, optionally bounded by start and/or end time. You can also set to delay an alarm or let a reminder endure for some time.
A launcher widget with a quick toggle for reminders and an indicator for the next reminder round off the package.

Please read our privacy policy before using these buttons